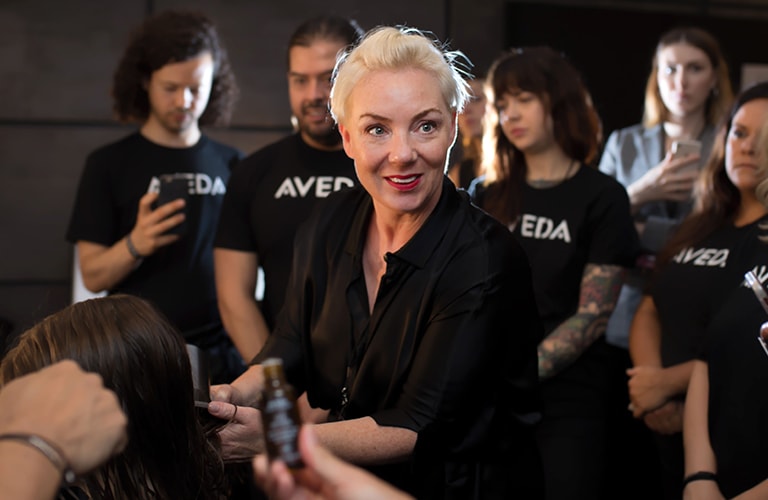 Throughout her prolific career, Antoinette Beenders' work has won her worldwide acclaim and an enviable clutch of the most prestigious awards in the industry – among them the coveted HJ's British Hairdresser of the Year trophy, in 2004. Her dazzling CV also includes work for style bible Vogue and she has dressed models' hair for the catwalks of Miu Miu, Alexander McQueen., Stella Mc Cartney and Dolce & Gabana, among a host of other legendary fashion labels.
As global creative director of Aveda, Antoinette's passion for innovative and beautiful hair has put her firmly on the world stage, giving her the chance to educate and inspire hairdressers with her work. "I was fortunate enough to be trained in photographic work prior to the digital era," she says. "Back then editorial shoots had to be perfect as photographers never re-touched hair. I think that strengthened my skills and made me the perfectionist I am today."
"This model was sent to me once with one-length, waist-length hair which was so unusual. I decided to give her a fringe, but I was a bit of a chicken and cut the fringe long to start with. It ended up looking like a little bob within the long hair. I then added a fringe and ended up with what I call a 'double vision' haircut. Great for girls who want a new look without losing the length!"
Antoinete Beenders has achieved many great things during her career. Among the many creative looks she created, she styled up a 91 year old lady. Her comment about it was "At the time no one used models of that age. However, I sparked a trend and  soon after, Donna Karan and Levi's started using older models as well." This was the photo that lead her to her first nomination for HJ's British Hairdressing Award. The photo that she actually won an award for was just a five minutes shoot. Beenders described it as such "With a face like this model's you can do anything – so I used a bit of an old wig, pinned it on, chopped into it and flung a scarf around her shoulders. At the last moment we put this mask on her as well, and somehow it just worked! These moments happen when the planets are with you; I live for those moments."
These are only two snapshots from her career. Beenders showed multiple times that she liked to challenge the current trends. Shortly after becoming Aveda's creative director,  Beenders decided to change the concept of commercial hairdressing marketing shots and create images for the brand that you might easily see as editorial in Italian Vogue or Harpers Bazaar. This was created for the launch of Pure Abundance Potion, which is a powder that gives your hair volume and texture. The inspiration was an 18th century wig.
During Christmas in 2007, Beenders joined Aveda to Nepal to shoot their Christmas campaign. This was a journey she described as the most eye-opening journey of her life. She said "I went to Nepal to shoot Aveda's Christmas 2007 campaign and it actually changed my life. Gone were the things you take for granted like bathrooms, kitchens and a decent bed; instead we slept in tents high up in the Himalayas and used a bush for a bathroom. I visited a community in North-Western Nepal that makes paper that we use for our Christmas packaging; it's so great to give something back and puts life into perspective."